Capacitive energy transfer balance board (high precision 1mv, point-to-point energy transfer balance).
balance current max 4A.
Size :130*140*25mm
Bluetooth phone APP function .
Have English APP now ~ contact us for APP ~ Have Andorid and iphone app
"10S to 24S 4A 1mV " version include balancers and wires for battery cells .
"docking adapter " version include 20CM docking cable + balanced adapter board
Blue Bluetooth status indicator: always on, the Bluetooth link is successful; flashing, the Bluetooth link is disconnected.
Red fault status indicator: always on, internal fault; flashing battery test failed.
Green working status indicator: always on, balance is completed; flashing and balance is working.
Number of series: 10S~24S; the minimum total voltage of the battery pack is greater than 30V
Applicable battery type: NCM/LFP/LTO (Lipo/Li-ion/Lifepo4/lithium titanate) fully compatible
Single voltage working range: 1.0~4.5V
balance method: patented balance structure flying capacitor method, combined with point-to-point energy transfer algorithm for high-efficiency balance .
Balance current: APP custom setting: 1-4A, due to the use of constant current and constant voltage technology, the balance current has nothing to do with the battery voltage difference.
Drop wire detection: support
Under-voltage protection sleep voltage: Under-voltage sleep voltage can be customized by APP: 1.5-4.2V
Quiescent working current: balance off 10mA, balance on 25mA
Working environment temperature: -20 degrees to +55 degrees
Don't need external power supply , and the entire group is balanced by the internal energy transfer of the battery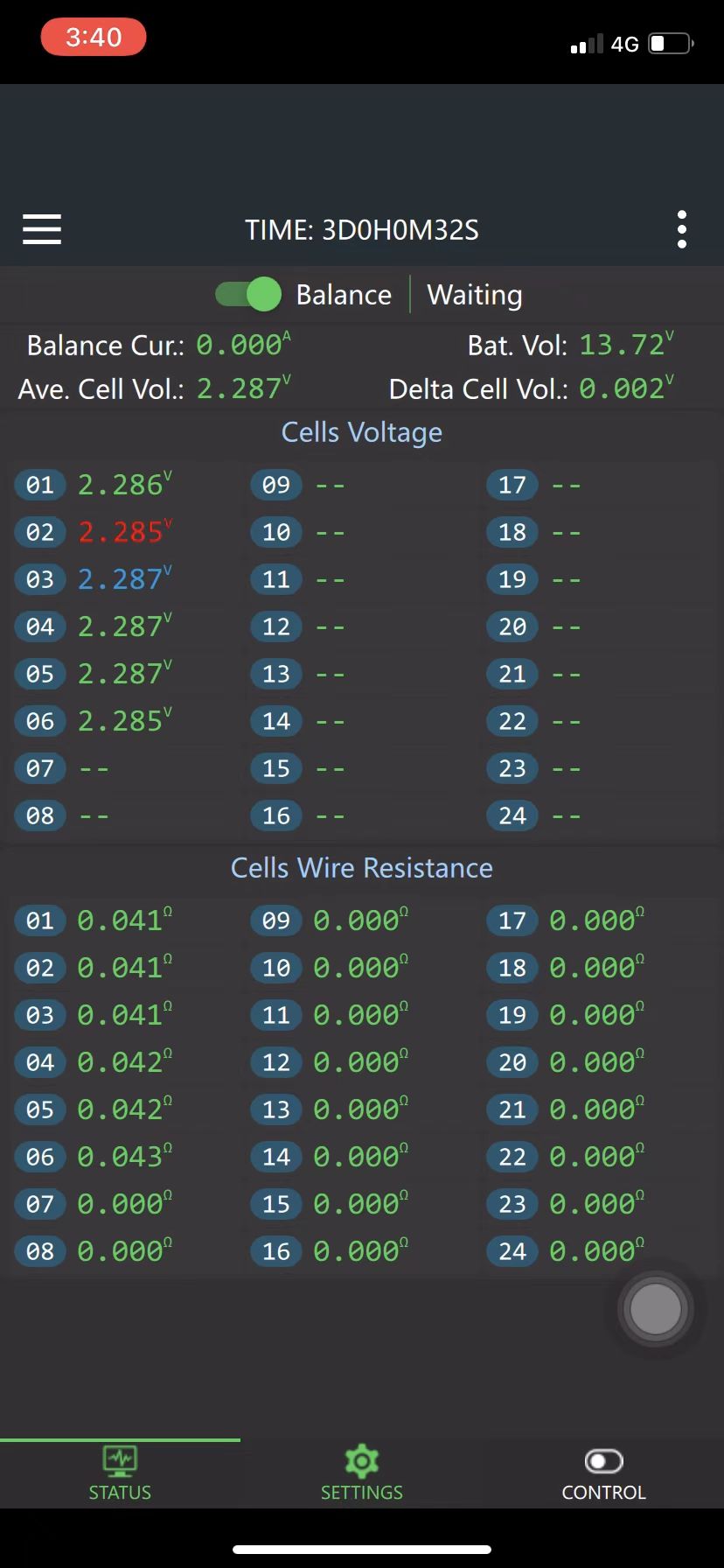 Advanced active balance means that energy transfer does not need to set up the top balance of the battery. The best working condition is to repair the voltage balance in the full voltage range of the battery, while the backward passive discharge balance needs to set up the top balance to perform the top pair discharge alignment and balance. The working principles of the two balance are different, and the system settings are also different.